What is the National Challenge?
The National Challenge is a 28-day online challenge designed to help you reach your goals.
How much does it cost to join?
Everybody pays £5 to enter the challenge. £4 from the registration fee goes into the prize fund and £1 is put into the running costs of the challenge. While taking part in the challenge you will also need to purchase the items for your personalised plan. The National Challenge is a not-for-profit challenge.
What categories are there?
Every challenge has five categories which are Lose it, Tone it, Shape up, Over 50s and Shred it. We have something for everyone.
How much money do the winners get?
The prize fund for each challenge is determined by how many people enter the challenge.
Will everyone get to see the images I submit?
No one will see your images, not even us until you submit your final images to be in for a chance of winning. If you don't ever submit your final images we won't ever see your before images.
Do I need someone to have referred me to take part?
No not at all, anyone can take part. If someone hasn't invited you to take part, not to worry, just get in touch with us and we can help you in creating your personalised plan.
What kind of support will I get during the challenge?
There are lots of options when it comes to support. We have a Facebook group for each challenge where you can chat with all the other challengers and give each other tips for recipes and workouts. We also have Charlie who you can contact at any time via facebook messenger. If you have any problems or queries, Charlie is the person to help you.
Do I have to post in the support groups throughout the challenge?
You don't have to no, but we certainly encourage it. One of our favourite things about our challenge is the support everyone gives each other and we have noticed the difference it can make to peoples results.
Do I have to submit my final pictures?
Well, we would love you to, sometimes people can be unsure if they have made enough progress to win, but in every case, they don't give themselves enough credit for what they have achieved. When final images are submitted we will go through them all and select the finalists to go to the final vote.
How are the winners chosen?
Once all the final images are submitted, we will go through them all and choose X finalists from each category. Once this is done we will put back the vote to all the challengers who took part. Everyone then votes and we have a winner, second place and third place for each of our categories and all of those will win cash prizes.
Can I keep taking part in each of the challenges?
Yes of course! We would love if you enjoyed the challenges enough to want to keep taking part. From our experience, it really helps people stay on track and keep motivated.
"Doing these challenges helps me stay on track and focused. Over the past 28 days I've lost 3% body fat, gained 5lb of muscle mass, my water reading is up by 2% and I've also lost 7cm's overall. I can't start the day without my raspberry tea and I love how much energy I have."
Denise Docherty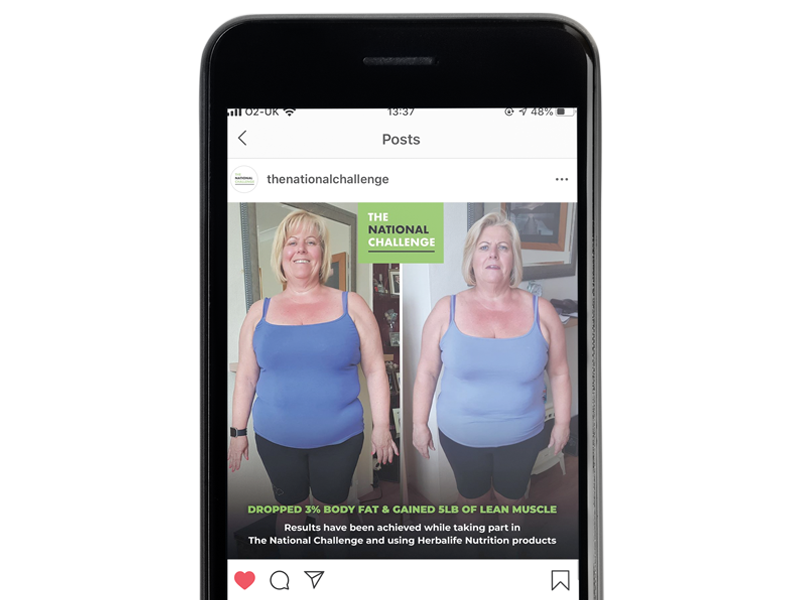 ---
Not found the information you were looking for? Get in touch.
Thanks!
This field is required
This field is required
This field is required